Commercial PACE RESOURCES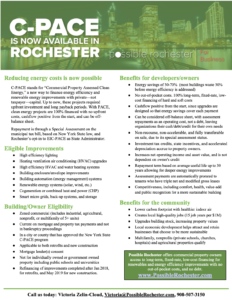 Professionals—engineers, architects, attorneys, accountants—may wish to know more, examine source documents, verify technical requirements, and so on.
Here's a brief compilation of what we're currently aware of. If you have any additional items you'd like us to add, please email us at editorial-team@possiblerochester.com.
NEW YORK STATE C-PACE LAW:
Municipal Law Section 5-L: Municipal Sustainable Energy Loan Program
Senate Bill S6523A (2019) – SIGNED BY GOVERNOR
NYSERDA:
Commercial Property Assessed Clean Energy (PACE) Financing Guidelines
New York State Legislature passes bill allowing C-PACE financing for new construction
To promote growth of renewable energy projects, the New York State Legislature recently passed bill A.7805/S.6523 (the "C-PACE Bill"), which will allow real estate developers and commercial property owners to obtain Property Assessed Clean Energy ("PACE") financing for new construction projects. PACE programs are thought to be beneficial for cities, promoting energy efficiency, reducing energy costs and promoting local economic development….

New York's Commercial Property Assessed Clean Energy ("C-PACE") program dates back to 2009. The program was updated in 2019 to allow commercial property owners the ability to access third-party financing on favorable terms. For more information on the C-PACE program as previously administered in New York, refer to our NewsWire update from August 2019.

Prior to the passage of C-PACE Bill, C-PACE financing was available only to finance improvements to already existing buildings. Under the new bill, the C-PACE program has been expanded to allow C-PACE financing for new construction projects. In passing the C-PACE Bill, the New York State Assembly emphasized that commercial real estate developers often fail to use the newest and most energy efficient equipment in new construction projects, because they could not take advantage of C-PACE financing. By saving 0n construction costs, real estate developers have gradually passed costs on to local communities via higher energy costs, emissions and pollution. In updating New York's C-PACE program, the New York State Legislature hopes that real estate developers will be able to incorporate more energy-efficient equipment in new construction projects and mitigate future direct and indirect costs to local communities. (Norton Rose Fulbright (law firm) Update September 7, 2020) 
Introduction to C-PACE in New York
Commercial Property Assessed Clean Energy (C-PACE) provides long-term, low-cost financing for energy efficiency improvements and renewable energy projects for commercial buildings.
Unlike traditional financing, repayment is secured through a benefit assessment lien that is subordinate to municipal taxes, but senior to all other liens.
Financing automatically transfers to a new owner if the property is sold.
(Noah Shaw, Daniel Spitzer Hodgson Russ LLP December 20, 2019)
Value Proposition to Developer/Building Owner
A lower blended cost of capital: Ability to replace expensive debt with C-PACE
No upfront cost: Financing is available for up to 100% of the project cost, or can be combined with other financing.
Customizable loan terms up to the expected life of the improvement: Long loan terms (up to 30 years in some cases) and fixed rates of interest
Compliance with updated municipal building codes, New York City's Climate Mobilization Act, and future carbon regulations
Significant reduction in building's energy bills
Legal Authority
New York State General Municipal Law Article 5-L
Authorizes municipal corporations (county, town, city, or village) to create a sustainable energy loan program to provide PACE financing to property owners
Municipalities must adopt a Local Law establishing a program.
69 municipalities have opted in so far (as of April 2022).
New York City authorized a similar C-PACE program as part of the Climate
Mobilization Act (Local Law 96 of 2019)
Administered by third-party, non-profit administrators
For New York City: New York City Energy Efficiency Corporation (NYCEEC) Program design and implementation in process
As of 2019, Open C-PACE no longer requires the municipality to administer PACE financing or to provide a backstop in the case of delinquency
NYC Issues Proposed Property Assessed Clean Energy (PACE) Loan Regulations( (Sive, Paget & Riesel (SPR), law firm)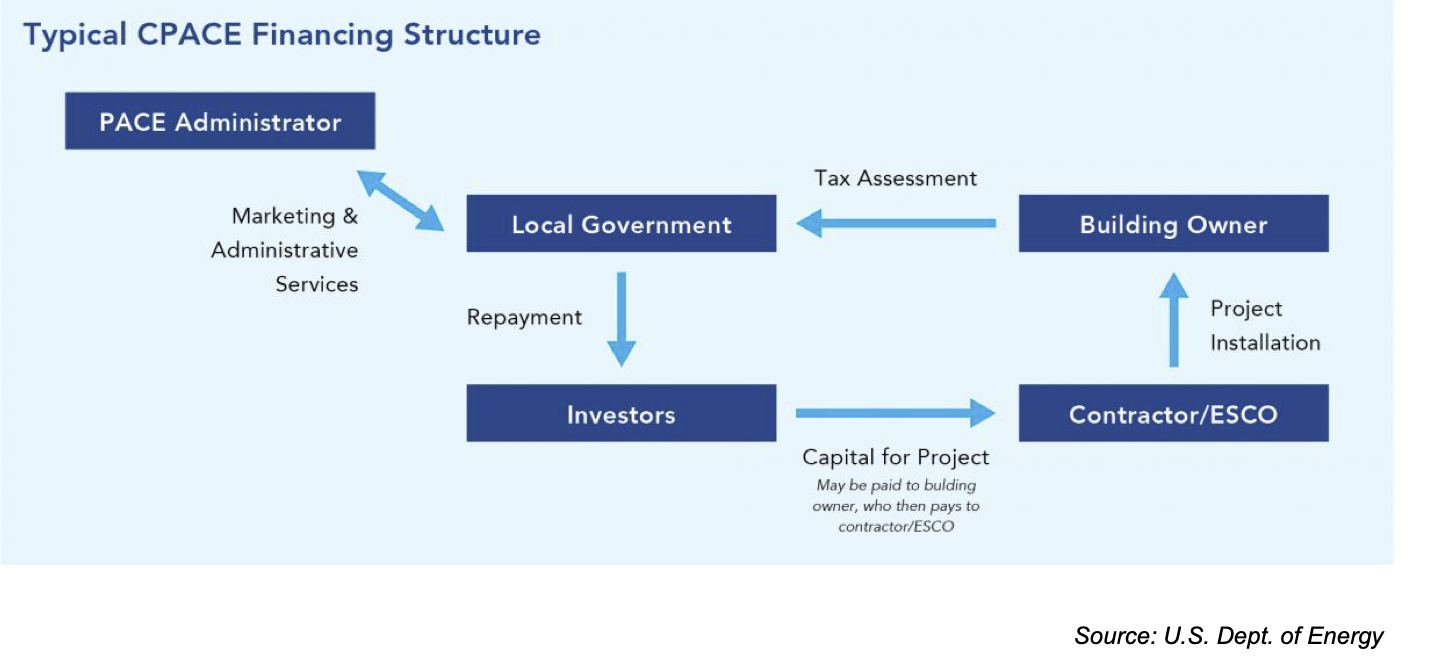 CPACE | Better Buildings Financing Navigator
CPACE MAY BE A GOOD FIT IF YOUR ORGANIZATION…
Owns or occupies facilities located in jurisdictions with CPACE programs
Wants long-term financing (10+ years) with lower monthly payments
Prefers to do pilot projects at a few locations before implementing more broadly
Does not plan to own or occupy its facilities long-term and wants to transfer financing obligations at the time of sale
Wants to invest in long-term improvements to building resiliency and reliability
Additional Videos:
What is PACE Financing? (2013)
Why Should Property Owners Use PACE? (2015)
PACE Financing is a Win-Win-Win! (2015)
What is PACE? Property Assessed Clean Energy – NFMT High-Performance Buildings (2016)
C-PACE: Financing sustainability while fostering economic development (2017)
Using Property Assessed Clean Energy (PACE) Financing to Make Buildings Better Pt 1; Using Property Assessed Clean Energy (PACE) Financing to Make Buildings Better Pt 2 Using Property Assessed Clean Energy (PACE) Financing to Make Buildings Better Pt 3 Using Property Assessed Clean Energy (PACE) Financing to Make Buildings Better Pt 4 (2017)
Property Assessed Clean Energy (PACE): How It Works for Commercial Property Owners (2019)
PACENation Webinar on PACE 101  ((2019)
Commercial Property Assessed Clean Energy. How it can be used for energy and efficiency improvements (2020)
---
---
Founding Sponsors

| | | |
| --- | --- | --- |
| | | |