Here are selected case studies of projects completed in New York State (outside of NYC).
---
Mixed-Use Solar
57 Mall Drive, Commack, Long Island, New York (2019)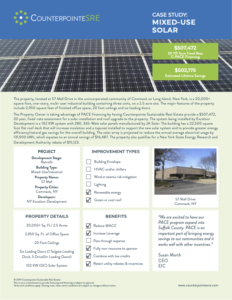 Counterpointe Sustainable Real Estate provided a $507,472, 20 year, fixed-rate assessment for this property's solar installation and roof upgrade. The system being installed by Excelsior Development is a 102 KW system with 280, 365-Watt solar panels manufactured by JA Solar. The building has a 22,500 square foot flat roof deck that will increase insulation and support the new solar system and provide greater energy efficiency/natural gas savings for the overall building. The solar array is projected to reduce the annual average electrical usage by 131,900 kWh, which equates to an annual savings of $16,487. The property also qualified for a New York State Energy Research and Development Authority (NYSERDA) rebate of $15,123.
(Click the image to view/download PDF.)
---
ROOFTOP Community Solar
195 13th Ave, Ronkonkoma, New York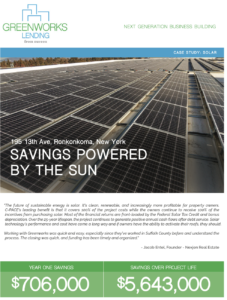 195 13th Ave is an owner-occupied light industrial building located in Ronkonkoma, NY, about an hour outside of New York City in central Long Island. GreenWorks Lending provided $1.724M in C-PACE financing for the installation of a 739 kW community solar project installed by SuNation. The project is using community solar to turn their previously empty roof into a revenue-generating asset that more than offsets their C-PACE payments, resulting in a cash flow positive project from year 1. The owners are expected to realize a net savings of $5.4M over the life of the solar array, all with $0 out of pocket.
YEAR ONE SAVINGS $ 706,000
SAVINGS OVER PROJECT LIFE $ 5,643,000
(Click the image to view/download PDF.)
---
RETROACTIVE MULTI-MEASURE ENERGY EFFICIENCY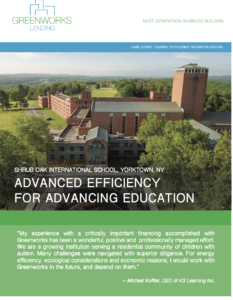 Shrub Oak International School, Yorktown, NY
Shrub Oak is a private, coeducational, therapeutic day and boarding school for students ages 8-30 on the autism spectrum. Located on 127 acres of rolling, wooded hills approximately 30 minutes north of New York City, the facility was originally built in the 1950s as a Jesuit seminary. C-PACE financing through Greenworks Lending is being used to retroactively finance multiple energy efficiency measures including lighting, HVAC, and building envelope. The recapitalization of nearly $7M in energy upgrades will provide immediate liquidity and will save the property owner an estimated $62,662 in the first year alone.
(Click the image to view/download PDF.)
---
ROOFTOP Solar PV
Bay Shore, NY Solar PV Installation
Dividend provided PACE (Property Assessed Clean Energy) financing to Advanced Convergence Group (ACG) for the installation of 45.6 kW of rooftop solar PV. The project is furthering ACG's energy use reduction goals by offsetting 28% of its annual usage. Dividend financed 100% of project costs, enabling ACG to preserve its working capital for reinvesting in its business.
(Click the image to view/download PDF.)
---
OFFICE-TO-MULTIFAMILY CONVERSION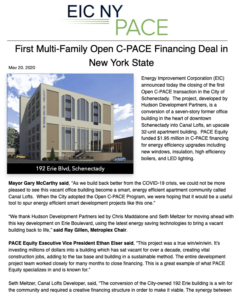 First Multi-Family Open C-PACE Financing Deal in New York State
The project, developed by Hudson Development Partners, is a conversion of a seven-story former office building in the heart of downtown Schenectady into Canal Lofts, an upscale 32-unit apartment building. PACE Equity funded $1.95 million in C-PACE financing for energy efficiency upgrades including new windows, insulation, high-efficiency boilers, and LED lighting.
PACE Equity Executive Vice President Ethan Elser said, "This project was a true win/win/win. It's investing millions of dollars into a building that has sat vacant for over a decade, creating vital construction jobs, adding to the tax base, and building in a sustainable method. This is a great example of what PACE Equity specializes in and is known for."
(Click the image to view/download PDF.)
---
historic hotel restoration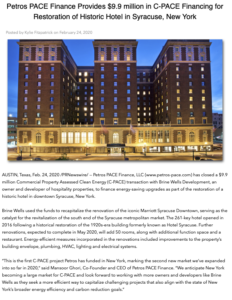 $9.9 million in C-PACE Financing for Restoration of Historic Hotel in Syracuse, New York
Petros PACE Finance, LLC (www.petros-pace.com) closed a $9.9 million Commercial Property Assessed Clean Energy (C-PACE) transaction with Brine Wells Development, an owner and developer of hospitality properties, to finance energy-saving upgrades as part of the restoration of a historic hotel in downtown Syracuse, New York.
Brine Wells used the funds to recapitalize the renovation of the iconic Marriott Syracuse Downtown, serving as the catalyst for the revitalization of the south end of the Syracuse metropolitan market. The 261-key hotel opened in 2016 following a historical restoration of the 1920s-era building formerly known as Hotel Syracuse. Further renovations, expected to complete in May 2020, will add 50 rooms, along with additional function space and a restaurant. Energy-efficient measures incorporated in the renovations included improvements to the property's building envelope, plumbing, HVAC, lighting, and electrical systems.
(Click the image to view/download PDF.)
---
energy-efficient greenhouse agriculture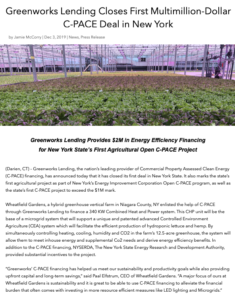 Energy Efficiency Financing for New York State's First Agricultural Open C-PACE Project
Wheatfield Gardens, a hybrid greenhouse vertical farm in Niagara County, NY enlisted the help of C-PACE through Greenworks Lending to finance a 340 KW Combined Heat and Power system. This CHP unit will be the base of a microgrid system that will support a unique and patented advanced Controlled Environment Agriculture (CEA) system which will facilitate the efficient production of hydroponic lettuce and hemp. By simultaneously controlling heating, cooling, humidity, and CO2 in the farm's 12.5-acre greenhouse, the system will allow them to meet inhouse energy and supplemental CO2 needs and derive energy efficiency benefits.
(Click the image to view/download PDF.)
---
NEW CONSTRUCTION (HOSPITALITY)

New Construction for Wildflower Farms, Auberge Resorts Collection, 65-room Luxury Resort
 CleanFund, America's leading provider of Commercial Property Assessed Clean Energy (C-PACE) financing has provided $21.6 million toward the development of Wildflower Farms, Auberge Resorts Collection, a 65-room ultra-luxury boutique hotel in the Hudson Valley being developed by SY Holdings.
The transaction is the largest transaction in EIC's C-PACE program to date, as well as the program's first new construction C-PACE loan. Moreover, Wildflower Farms, Auberge Resorts Collection is one of very few hotel new construction projects to be financed in the COVID-19 era.
(Click the image to view/download PDF.)
---
---